"Don't go out too hard" is pretty much the universal advice for long distance trail running. So why was I in an unlikely second place the entire first Kilometer?
I'd rarely seen a more relaxed starting line. Five minutes before the start, people were still standing around pretty much everywhere, except the starting line. At big races, show up 5 minutes before the start and you're guaranteed to be stuck behind hundreds of slower runners. At 8:55 in Orscholz, nobody seemed to be in any kind of hurry to be anywhere near the front row. So that's where I lined up, a little reluctantly. And then when the gun went off after a fairly short instruction on which markings to follow and which we should ignore, only one guy (the eventual winner) took the lead at what seemed like a decent pace. Nobody seemed keen to follow him, even though the course profile indicated that the initial few kilometers would not be terribly hard. So after just a few meters, I found myself in second place; which was very much an unlikely spot for me to be in even though there had only been 43 people who had signed up in advance for this race.
The effort felt easy, and the net downhill on the first kilometer allowed a pretty fast pace. 4:35km/h is not a pace I can usually run at, but my heart rate monitor confirmed that no; my effort wasn't over the top. By the second kilometer, I'd lost one position to Paulo Ramos, a much faster runner than me.  I'd seen him race at several Luxembourgish competitions. The trails here were a little more technical, so the pace slowed down quite a bit.
After 2.5km, Paulo briefly took a wrong turn; but recovered and I was back in third position. Over the course of the next few kilometers, the race course continued in an easterly direction towards Mettlach. The trails were mostly of the "jeep road" variety and along with the continuing net descent, allowed for a decent pace of around 5min/km. A few changes of position took place here, although I don't really remember much about them. Only at km6, with me at about 5th or 6th place, did the going get a little more technical; when we headed straight down on a narrow single trail towards the Saar river. There, we joined the promenade, and from about km6.5 to about 8.75km, we were on pavement. Here, I tried to keep the effort reasonable, which translated to a pace north of 5min/km but at a fairly easy heart rate of 156.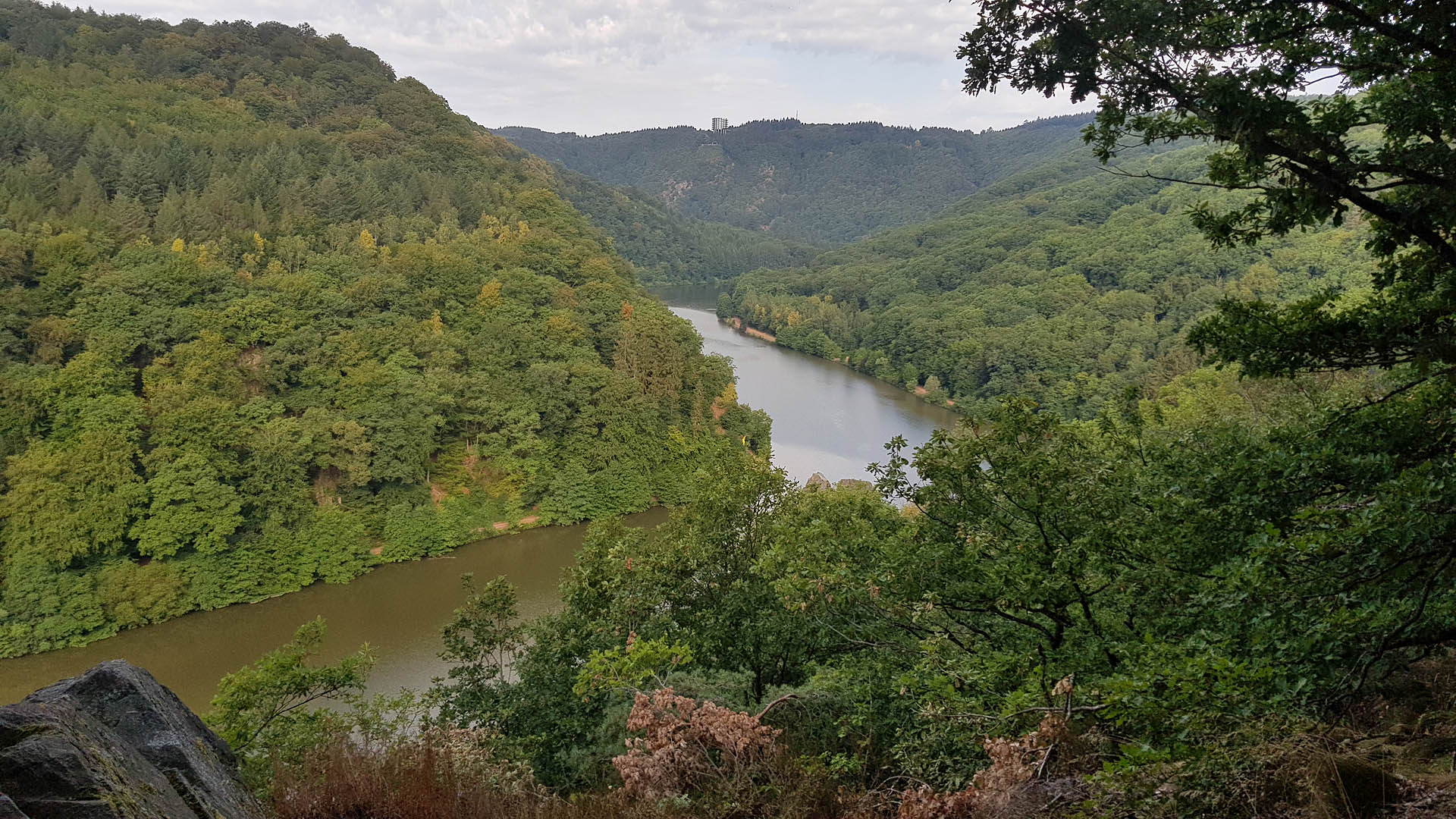 Next up, we rejoined some easy gravel paths for a tour around Schloss Saareck, a scenic castle overlooking the Saar river. The few people in front of me were out of sight, and there were a bunch of people behind me who seemed content to follow my pace.
Shortly after the 9km point, we hit the first aid station. I'd almost emptied my two 0.5 liter soft flasks, and asked to have them refilled with isotonic mix. I'd briefly met the two people manning the aid station during the previous week's trail race where I DNF'ed, so I probably hung around a little too long; about two and a half minutes in total. I totally get why elite runners have teams ready that hand them full bottles at aid stations and they can continue without ever stopping; it could have easily saved me a minute or two here. As is, I lost a few positions while I was stationary, but maybe that was actually a blessing in disguise because next up was the first real climb of the day, from about 190m to 310m. Needless to say that I switched to a walk, but compared to the surrounding competitors I was moving well and was able to regain one position almost straight away.
Once we'd reached the top, we were once again on a jeep road, and a fairly level one at that. I gradually caught up to another runner here. The trail stayed level for about two kilometers, and then at the start of km13, there was a nice descent back towards the Saar. It was just the right amount of descent – not too steep. This allowed me to let gravity take over and rely on quick and efficient foot steps. My GPS watch says I clocked my fastest pace of the entire race here, 4:12min/km on km13, but that may have been a little optimistic because of bad GPS reception in the little valley we descended. However, I was able to pass another runner who seemed a little more hesitant on the descent.
Before too long, I was at the Saar river again, and crossed a pedestrian bridge to the small town of Saarhölzbach. Km14 lead me through this somewhat unremarkable town. The going was quite easy, even though I was at the start of another climb. Thankfully, it was quite gradual. After leaving the town, the course heads left, following a small single trail towards an area that was being used by a kid's group encampment. Somehow misleadingly, there had been a sign hinting at refreshments here, but obviously that was aimed at the kid's group and not us runners. Instead, we got cheered on by a few kids. At this point, there were two runners behind me who once again seemed content to stay behind as the gradual climb turned a bit steeper. I still felt like I was moving at a smart pace – about 7min/km on this climb where I alternated between power-hiking and running.
At the end of the climb, almost exactly at the 17km point, my mind got a little complacent. Over the course of the race so far, we'd been following a mixture of red and yellow markers. We'd been told that the red markers were for the bike race the next day, and we were sharing some of the same trails but that the yellow markers or signs were taking priority for us runners. But for some reason, at an intersection that had both red and yellow markers leading in different directions, I blindly followed the red ones. Thankfully, one of the runners just behind me had spotted me heading right when I should have continued straight on and yelled out at the me. I heard him, and was able to return to the course without loosing too much time.
This short episode was a good indication of where my race turned from an enjoyable run that felt very much under control into a run beyond my comfort zone where I now had to will my body forward while I was fighting fatigue and started feeling the effect of both the heat and the effort done so far.
But at least we had reached the top of that second climb (from 175m to 325m over the course of 3.5km), and from here on out I'd be running downhill again.
At about 19.5km I reached the second aid station for the day. It was manned by a familiar face, Markus Krempchen. He told me there were six people in front of me (or maybe that I was in sixth position – I don't quite remember). But just like at the previous aid station, while I was standing there for about 2 minutes two runners went past (one who didn't stop at all, one who was more efficient and spent less time).
Lap 20 was a fairly straight one, but offered little to no shade. There was a nice field of sunflowers to my right side, but all I really cared about was the guy in front of me I thought I should catch; and my body telling me it didn't have the energy to do so.
Next up, we did a bit of a zig-zag around a place called Herrgottstein. Here, the race course was once again following the MTB course. Starting at around km21, the course was a fairly technical downhill; and the race organizers were clearly concerned that bikers should take it seriously: there were lots of markings pointing out the worst spots. As a runner, the descent was still very much manageable. During the start of the descent, I'd still seen a fellow runner in the switchbacks below. I saw someone again at km23 where the descent leveled out and a sign proudly proclaimed that it was now only 10km to the finish line; but by the time I hit the center of Mettlach I no longer saw anyone; neither in front of me nor behind me. I estimated that I was in 7th or 8th position at this spot; but had not invested sufficient mental energy to keep an entirely accurate tally of who was in front of me and who was behind.
The run through Mettlach and over the bridge spanning the Saar river was a bit of a slog. I could definitely feel that I was nearing my limit, since even at a pace that was now above 6min/km, I was still at a heart rate of 158bpm. However, since the elevation profile had mentioned an elevation gain of 900m but I'd only registered about half of that, I knew that my race was far from over. During km25, I caught up with a runner in front of me. He seemed to be suffering more than I did, so I managed to pass him quite easily even though by this point on the climb out of Mettlach I was once again mixing power-hiking with running. Shortly afterwards, I could see a different runner in a fairly bright shirt behind me; so I knew that I was still "in the race" and people were actively trying to race and would catch me if I slowed down too much.
A little later I came across a race official who told me I was in fifth position. I thought I was in 6th or 7th position at that point, so this was encouraging news. As best as I can tell now that the race is over, he might have missed one runner; while at the same time a runner I might have thought was still in front of me dropped out or got lost. Either way, when you're told that you're top 5, that gives you a certain boost.
Things got a little steeper, and all of a sudden I could hear a different sound behind me; that of poles being used. A few looks confirmed that a guy was behind me, but he didn't have a bib number visible. Shortly after 27km, the final aid stations was located. I refilled both of my soft flasks again, but tried to be more efficient. The guy with poles had caught up with me and I could now see clearly that he had no bib either in front nor on his backpack. I didn't quite know what to make of that – was he a tourist who took advantage of free water? had he dropped out of the race and was continuing on the course to get back to the finish line? It didn't even occur to me that someone would intentionally or not hide his bib number while still in the race.
Right after the aid station came another descent, and after a few hundred meters I rejoined a trail I'd occasionally used in training. I followed it back down to the level of the Saar. From here on out, I knew that I'd run along the Saar on a gravel path until I reached the final climb of the day, following the Cloef path to the finish line.
My fatigue increased and I was barely able to keep running on the level part. So obviously when the right turn for the Cloef path came, and with it the final big climb of the day, I switched to a power hike straight away. I hadn't seen the guy with poles on the level part, but on the climb I could hear him again behind me, not really gaining ground but he seemed to basically pace off me. Since the Cloef path has quite a few switchbacks that allows you to see from both in front and behind, I was able to confirm again that he had no bib number visible. But then again, it wasn't unreasonable for a tourist to get a sudden thrill out of wanting to keep up with a runner, right?
I was able to maintain an even effort up the climb, but was then a little dismayed to find that once we had reached the top there was a sign saying "1km to go". I knew that on the shortest path it would take me about half of that, so there were some detours still ahead. Unfortunately, I was spent. At one point, I had to revert back to a walk even on level ground. The poles guy seemed to have dropped off a little, and maybe I took this moment of perceived solitude as an excuse to slow down. Either way, with less than half a kilometer to go, he suddenly came running past, not acknowledging me in the least. When he was ahead a hundred meters, I could see him fiddling under his backpack or t-shirt and suddenly there was a bib number! So not only had he hidden it for all of the past 5 kilometers, but he had waited until he was sufficiently past me until he made it clear to me that I had been passed by a competitor, and not a random tourist; basically keeping up the deception long enough that I couldn't catch up with him again.
Now, maybe it was all an innocent misunderstanding, and maybe that sneaky bib went into hiding without him realizing it; but it certainly didn't feel like that to me at the moment. And yet, the gap seemed to big for me to catch back up with him, so I basically just reasoned that it wasn't a big deal; and that for me it did not matter whether I finished one position ahead or not. Still, it did not really seem like fair play to me. At the finish line aid station, he still did not acknowledge me; in fact didn't even look in my direction. I guess that paints a pretty damning picture.

As it turns out, I finished in seventh place, in a time of 3:33:17. Half a minute behind 6th place; 46 minutes behind 1st place. Paulo held on to his 2nd place in 3:05.

Only 34 runners crossed the finish line.